First Solar Powered Concert in Bogotá
Wapapura is proud to announce we are putting on the first Solar Powered concert in Bogotá.  It is at the Botanical Gardens of Bogotá and in collaboration with Clean Energy Colombia, a program of USaid.  Thanks to them this is possible.  With their support and Solar Power equipment, we can do what we have been doing around Andalucia for the last year.
The artistic line up is in perfect harmony with the power of this important event.
The line up is Conector, Richard Blair and Javiro.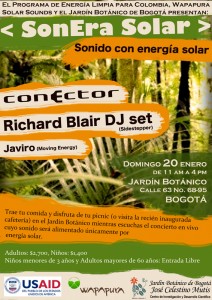 Conector is a project by Hector Buitrago, one of the leaders of the historic Colombian band, Aterciopelados.  Conector and Hector are the perfect musical match for this event as he is the most active musical environmentalist in Colombia with this musical project and Canto al Agua.  Both using music to help us towards a more healthier relationship with our natural planet.  www.conhector.com
Richard Blair is one of the most influential DJs and Producers of the last 20 years in Colombia.  He started working here with Toto la Momposina, but moved on to create the musical project, Sidestepper.  Most musicians you talk to here grant this band the status as being the headlight of the current trend in Colombian music to dig deep into traditional styles and make them alive in the current moment.  Inspiring bands like Choquib Town, Systema Solar, Pernett, Mucho Indio, just to name a few.  Richard has been an oracle for us on this journey.  We are very honored to have him present on this special day to grace us with his mix of smooth tropicalia. www.facebook.com/Sidesteppermusic/info
Javiro is Javiro!  The director and guiding force behind Moving Energy, having taken his solar powered cumbia sessions all around Andalucia in 2012. www.facebook.com/movingenergy
And all this to take place at the amazing enormous Botanical Gardens of Bogotá and in partnership with Clean Energy Colombia that is installing renewable energy systems in rural villages for the use in community projects.
It is going to be one fine day of music in a green urban oasis so help us and pray for sun and come on over if you are in Bogotá.