ALMA: Arte, Legado y Medio Ambiente (Art, Legacy and the Environment)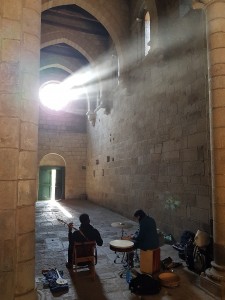 ALMA is Wapapura´s residency program that offers artists the experience of connecting and co-creating in contact with the Earth and historic resonant spaces.
After producing many events in different locations around the world where Nature and the Soundspace are the muse and the instrument, it was obvious that artists need time to obtain a real connection with the surroundings.
ALMA is about offering this opportunity.
An opportunity that is guided by Wapapura´s director as he leads the artists on an exploration of the environment until they reach a state of Total Listening.  A state of presence which then facilitates the creation of a reciprocal relationship with the environment where art becomes the currency of communication.
The first ALMA residencies took place in collaboration with Ecos da Pedra at a 12th century Monastery located in the Ribeira Sacra of Galicia, Spain.  A remote area of steep river canyons, ancient vineyards and old growth forests.
A short documentary about these first residencies was screened at environmental film festivals around the world and won Best Sound at the Earth Day Film Festival in Chico, California.
Here is the full documentary: